The new decade of the 2020s is upon us. The start of a new ten-year cycle brings renewed optimism and excitement for what the future will bring. For business owners, it's time to take stock of revenues and expenses to see where sales can be increased, and costs can be cut. 
What about energy costs for your business? Are they rising faster than inflation? According to the U.S. Energy Information Administration, the cost of retail electricity will average 13 cents/kWh in 2020, which is 1.2% higher than the average retail price in 2019. In fact, retail electricity rates have risen across the nation about 15% over the last 10 years. 
Compensating for those steadily increasing electricity bills is the rise in solar. According to EnergySage marketplace data, the average commercial property owner pays around $538 in monthly electricity bills before going solar. After their installation, their electricity bill is reduced to approximately $91 ­­– an 83% reduction. Increased cost savings for savvy business owners working with experienced solar companies can make a substantial difference to your business operation. Is gaining energy independence in 2020 possible? Let's take a look. 
Control Energy Costs
The most obvious advantage of gaining energy independence in 2020 using solar is controlling energy costs. As stated above, solar is an efficient and cost-effective way to reduce energy consumption for your business. According to the Solar Energy Industries Association, the cost of solar has dropped by more than 70% over the last decade, leading the industry to expand into new markets and deploy thousands of systems nationwide. 
Companies like US Energy Solutions have been able to pass along reduced costs of solar panels and increased efficiency to their customers by offering several options for business owners looking to go solar.
Solar Purchase 
Purchasing solar for your business will provide cost savings for many years. In addition to financing options for the installation of your system, there are huge tax benefits such as 85% accelerated bonus depreciation, which means that your company can write off 85% of the cost of the solar system in the first year of operation.
Solar Lease
Solar leases are becoming more popular due to their flexibility. By installing a fully maintained solar system on an open area of your commercial property, US Energy Solutions will sell the electricity generated back to the utility company. 
Solar Power Purchase Agreement
A solar power purchase agreement (Solar PPA) is an agreement between a solar developer like US Energy Solutions and your business. Solar panels are installed and the power it produces goes back to you. Rates are typically 10% less than current utility charges. Solar PPAs are a clean, solar electricity windfall for your business. 
Utilize Unused Space
Business owners looking to gain energy independence in 2020 would be well served to look at their property for available spaces for solar installation. Those open areas can be found on building roofs, garages, open fields, or unused parking lots. These spaces can become solar farms of varying sizes depending on your setup, but no matter how large or small, US Energy Solutions can turn them into a cost-saving and even revenue-generating operation. 
Solar installation options include buying your own solar system or leasing your open space to US Energy Solutions. With a solar lease, they'll build, own, and maintain the system while paying you monthly lease payments. Other options here include a Solar PPA in which your open land generates electricity for your business and providing a steady stream of income from the power company.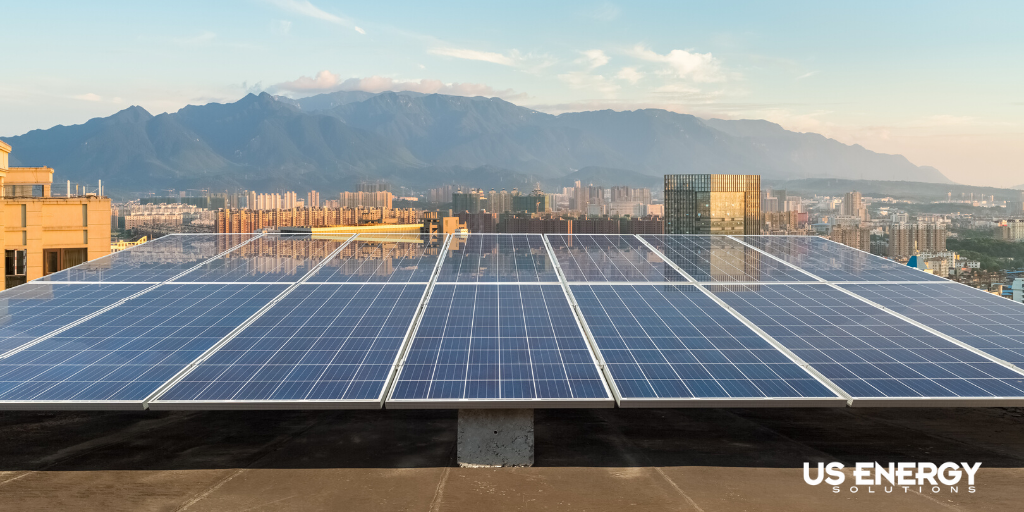 Smaller Carbon Footprint 
Reducing our carbon footprint is on the minds of most Americans. Yet, for business owners, lowering energy consumption on behalf of the planet meant up-front costs that many were unwilling to spend. The increase of solar power generation by lowering installation costs and adding features now makes using sustainable energy a cost-effective option for business owners. 
One area of energy consumption often overlooked is lighting, which can be a huge drain on energy usage and overall electricity costs. US Energy Solutions has several LED lighting solutions for your business that can reduce your electricity bills by up to 50%. New lighting installations at your business can be done with little or no up-front investment and can make your business a green-friendly community partner. 
Energy Independence Day
Gaining energy independence in 2020 is possible with the right system in place while working with a company that can turn your business into a profitable, energy-efficient operation. US Energy Solutions has worked with hundreds of businesses in your area to rid them of electricity bills. Contact US Energy Solutions for a complimentary energy assessment and how you can gain energy independence in 2020. 
Let us show you that going solar is right for your business
Get started with a complimentary energy assessment by calling us direct at 757.279.2943 or completing the form below.