Business owners are used to taking risks. Whether it's adding new staff and resources or expanding into new markets and products, taking on risk is a part of the business owner psyche. Yet, risk can be minimized with the right amount of planning and developing solid partnerships.
As a business owner, you may have thought that going solar was a risky move. After all, the perceived cost of solar panels and maintenance probably put them out of your reach. But the continued advancement in solar technologies and significantly lower cost has made solar an economical and safe strategy for reducing energy costs and improving performance.
Businesses of all sizes can capitalize on the many benefits of adding solar power. Solar energy has become a strategic decision that has proven to have numerous benefits for your business. Here are six benefits of going solar.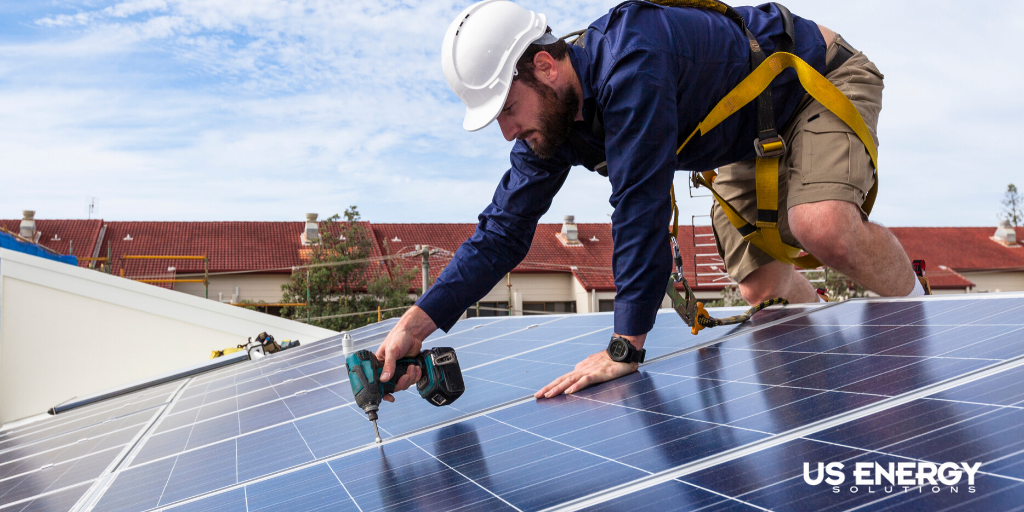 1. Solar power is a great investment
Solar power for businesses is an investment rather than an expense. Today's solar systems are a great way to use open space as a revenue generator by installing solar panels. Companies like US Energy Solutions work with business owners to design and install solar systems with financing options covered by utility rebates, low-interest state loan programs, or other traditional financing solutions. There's also the choice to either purchase or lease your solar system.
2. Solar energy improves cash flow
Once you have your commercial solar panels installed and hooked up to the energy grid, you start to save with lower energy bills each month. They'll reduce the operating expenses of your business, which will cascade through your balance sheet. Most businesses working with US Energy Solutions will find that their cost to install their solar project will more than pay for itself over the life span of the solar system.
3. Solar will control future energy bills
Business owners know they must add utility cost increases to their annual budget as the price for electricity, gas, and water continues to rise. It's also difficult to predict operating costs for businesses because of changes to operations, facilities, and staff. Working with an experienced solar energy company like US Energy Solutions, installing a commercial solar panel system will reduce or even eliminate electricity bills. Budgeting just got easier because you won't have to worry about rising energy prices.
4. Increases your property value
Homes and commercial buildings that have solar panels can have higher property values and sell faster than those that don't, per multiple studies. With the solar revolution gaining steam, adding commercial solar panels figures to make your building more desirable. If you have lower electric bills, that's a boon for any business owner.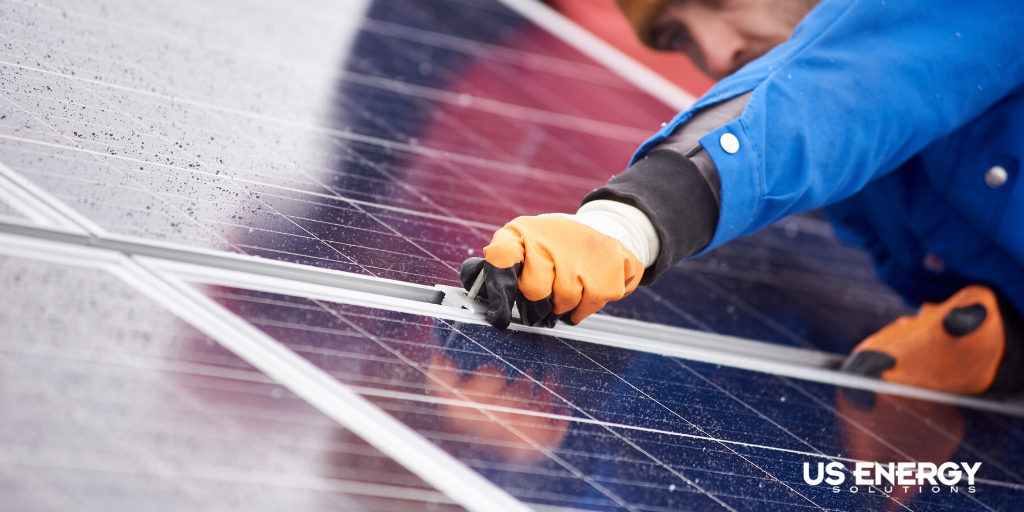 5. Improves your brand with a greener image
Commercial solar panels provide benefits beyond lower costs. Your business can become a community leader in renewable energy, sending a positive message about your dedication to sustainability and the environment. Branding your business as "green" to your employees, customers, shareholders, neighbors, and other community members can make you stand out in the crowd.
6. Provides high reliability and low maintenance
Commercial solar panels are encased in tempered, protective glass, framed by non-corrosive aluminum. They are built to be exposed to the elements and can withstand rain, hail, wind, and snow – just about any weather-related threat you can think of. US Energy Solutions handles the maintenance of your solar system. They're also a great way to utilize open spaces like roofs, parking lots, and empty lots.
How to take advantage of solar benefits
Reducing risk and adding rewards is top-of-mind for most business owners. Going solar is one of the best ways to increase cash flow and reduce utility expenses. Starting with an energy audit from US Energy Solutions, the process of financing, installation, and maintenance of your solar system will be painless to your operation and bottom line. Contact US Energy Solutions to schedule a complimentary energy assessment today