From the Port Authority of New York and New Jersey (PANYNJ) to a local baptist church in Perryville, PA, many businesses are making efforts to reduce their overall energy bills and make smarter and greener decisions to improve their businesses. By making the switch to LED lighting, the PANYNJ is expected to save more than $700,000 in its first year and continued savings year after year. For First Baptist Church in Perryville, their annual savings is roughly $7,000, which frees up financial assets to pursue other important projects.
Based on our experience, we have found that many facilities waste significant amounts of energy due to lighting for a variety of reasons including using old, outdated, and inefficient lighting technology as well as having no controls like occupancy sensors, daylight harvesting, and dimming. With all of these ways your business is wasting energy, it begs to ask the question…Is LED a bright idea for your business?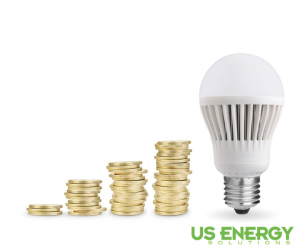 For businesses looking to save money and reduce their carbon footprint by reducing greenhouse emissions, switching to LED lights can be a great option. Here are a few things to consider when deciding to make the switch:
LED lights emit very little heat.
Compared to compact fluorescent lights (CFLs), which emit about 80% of their energy as heat, LED lights emit very little heat allowing the bulb to last significantly longer.
LED lights are environmentally friendly.
For those concerned about reducing their overall carbon footprint, making the switch to LED lights is a great idea. Reducing your overall energy consumption helps to decrease carbon dioxide emissions. Additionally, LED lights contain no mercury and can be safely recycled.
LED lights last longer.
Compared to incandescent and CFLs, LED lights can last significantly longer. CFLs last roughly 10 years, whereas LED lights can last up to 15-25+ years. This equates to roughly 50,000 hours of lighting at maximum output.
LED lights improve appearances.
Appearances matter when it comes to attracting customers and giving your employees a safe and healthy environment to work in. Not only do LED lights provide a more attractive light, but they also provide better and brighter light that helps improve employee productivity.
LED lights save you money.
It is mostly given that reducing your overall energy consumption means a decrease in monthly energy costs. Some businesses see upwards of 70% savings annually when making the switch, but it does vary by business and needs. If you purchase on your own it will cost you more upfront, but you save big in the long run, however, if you install a system with US Energy Solutions then we provide the LED lights at no cost to you reducing your overall start-up costs significantly.
At US Energy Solutions, our approach is to evaluate facilities and offer solutions that meet our customer's financial and technical needs. With lighting representing up to 40% of the overall annual power cost for certain buildings, the savings that can be achieved can have a major impact on the bottom line.
Our solutions include:
No cost lighting audits + LED lighting recommendations and installations
Trade Ally status for National Grid, Pepco, Delmarva Power, Dominion Power, and many others
LED projects offered with no capital investment required
For multi-location portfolios, our Lighting As A Service subscription will allow you to upgrade all locations at one time with no capital outlay.
Fast ROI's from 0 – 18 months
Advanced lighting controls such as daylight harvesting, occupancy sensors, etc.
Utility rebate identifying and processing of rebate application paperwork
Are you ready to make the switch to LED? Click here to schedule your no-cost, complimentary, on-site energy assessment with an implementation plan.